Lake Tahoe is a recreational gem. In the Tahoe Basin and in the counties that surround it, the depth and width of outdoor wonder are stunning. El Dorado County, Placer County, Nevada County, Alpine County, and Douglas County on the Nevada side, all contribute to the vast and varied outdoor recreational possibilities that are enjoyed by all who choose to get outside.
Outside Today
Coronavirus precautions
The snow we've all been waiting for blew in with gusto, finally. Unfortunately, so did the coronavirus. 
The result is that all the ski resorts, downhill and cross country, are closed. It is likely they are done for this season. It's all for the greater good, which is to stay healthy and avoid anything that will spread the virus among us. 
Does this mean the cross country, Telemark, and snowshoe season is over? All that snow and you can't be on it? That depends on a few things, all of which involve common sense.
While the Governor has issued a shelter in place order, there are exceptions to staying hunkered down in your home. Exercise is one of them. The covid-19 precautions are still extremely important to practice though. It's common sense and common courtesy, even in the backcountry.
If you are a cross country skier, snowshoer, or Telemark enthusiast, it is very important that you go out only with your partner, spouse, or immediate family. Stay away from other people while you're out there, which isn't very difficult to do considering the nature of the backcountry and xc skiing and snowshoeing.
You will have to consider where you will head out into the snow. Most of the places that we would normally stop at for a coffee or lunch and a bathroom break are either closed, allow a very limited number of people to enter at any time, or have only curbside service. 
Over on SR 88, Hope Valley area up to Carson pass, nothing is open. Hope Valley Cafe, Sorensen's, Hope Valley Outdoors, Kirkwood Inn and all the rest of Kirkwood, are closed. Carson pass has parking areas on the north and south sides that have vault toilets in the SnoPark lots. I do not know if they are open though.
Up in the Crystal Basin there are no services of any kind at this time of year. The Loon Lake Chalet is the only place up there during the snow season that has facilities. I do not know if that is open at this time either.
You'll need to bring all of your own food, water, coffee, chocolate covered peanut M&M's, hygiene supplies, and the rest of the normal gear you take out there. As always, you're on your own in the backcountry. In addition, you're on your own while you're travelling now as well.
The last storms added several feet of snow to the mountains. The Sierra Avalanche Center (https://www.sierraavalanchecenter.org/) keeps tabs on avalanche conditions in the high country. It is even more important now to check their advisories before you head to the backcountry. Know before you go is even more critical now due to the pandemic.
Pay attention to the advisories. There's a lot of snow, you can always go on a different day when conditions are better. If you're in doubt about either the conditions or your health, stay home.
It's up to all of us to keep all of us healthy. We all need to do our part, and yes, everyone doing so is critical. Social distancing, going out only for the essentials, staying home if you are feeling sick, keeping your hands away from your face, using soap and water to constantly wash your hands, and somehow making sure your children are paying attention as well, will shorten the duration of this mess we're in.
We are in it together. We all need to take care. No one is immune to this. A lot of common sense is obviously needed.
Get your gear. Cautiously and responsibly get outside.
Snowshoe Thompson Celebration 
Clear your calendar for Saturday, March 7, 9:00 am to 1:00 pm, for the annual Snowshoe Thompson Celebration. It's at the Lake Tahoe Golf Course, 2500 Emerald Bay Road. Learn about Snowshoe Thompson, enjoy some history with a great group of family and friends, on a wonderful winter day in Tahoe.
Winter snows  
A strong winter storm is just what we need, and that's what the mountains are getting. Blizzard like conditions, snow up the western slope, 4,000 feet and higher, into Tahoe. All the resorts are experiencing very good snow totals on top of the existing base. Check Curtis Fongs Bike and Ski Tahoe for a daily update, and Sierra Avalanche Centers Advisories if you're a backcountry enthusiast.
Joyce Coker at Hope Valley Outdoors just announced a great deal for parents: Kids seasonal skis/boots/poles rental, $60 for the season.  She also has, as of today, Jan 6, a foot of new snow at the Yurt. There's more on the way. Make sure you and yours are prepared for cold, snowy conditions. Carry chains, no matter what kind of car you are driving.
Always check weather and road conditions before heading into the mountains:
CalTrans Road Conditions and CalTrans Weather Cameras
Winter in the mountains  
We've moved through November, and most of December. The Winter Solstice took over seasonal duties from autumn on Friday, December 21. Snow, cold temps, rain, beautiful winter weather is now with us till the Vernal Equinox.
All the ski resorts, downhill and cross country, are open. Joyce Coker's Hope Valley Outdoors opened on the Solstice. XC and snowshoe gear rentals, lessons, tours, and more, all out of an actual Yurt. She's located on Burnside Road, at Pickett's Junction (intersection of SR 88 and SR 89) in Hope Valley. 
A good start to the snow season, with snow continuing to fall. A good place to check current conditions at all the resorts is Curtis Fong's Bike and Ski Tahoe. Curtis updates his site daily, listing all the resorts, conditions at the resorts, info about roads, weather, and Sierra Avalanche Center advisories. 
Backcountry travelers: remember that you're on your own out there. Your common sense and backcountry skills are all you have to stay safe and have a wonderful day. Pay attention to everything: weather, avalanche advisories, layered clothing, food, water needs and much more. If thing look dicey, stay away, come back another time to find your bliss out there.
October ends November enters  
October ends with Halloween and more candy than anyone could possibly eat and keep their teeth. 
Temps are cooler. Depending on where you are in the mountains, from Pollock Pines to Tahoe and over into the SR 88 corridor, they could be cold. That's a good thing. The annual color dance of the aspens, cottonwoods, willows, dogwoods and more is past its peak. There's still color to be found. Wandering aimlessly will find pockets of color all over. The Highway 50 corridor gets pretty colorful this time of year.
Things to do in the high country range from hiking, kayaking, cycling to some skiing–imagine that. Mt. Rose has been making snow and, according to Jessica VanPernis Weaver of JVP Communications, season pass holders have the opportunity to ski on weekends, conditions permitting. Check the Mt. Rose website or call them to find out if there will be skiing this weekend, or any weekend, till they open for the season. Only a few trails are open, but skiing right now is good for bragging rights.
Wandering about is good right now just about anywhere in the mountains. Take a back road, take your time, you never know what you'll find. Cycling, road or mountain bike, is spectacular this time of year. Check with the local bike shops in Tahoe for best info about where to ride. Placerville Bike Shop and Hangtown Cycle can fill you in on best places to ride from Pollock Pines and up into the Crystal Basin and over Echo Summit.
Most of the state and federal beaches in Tahoe are closed for the season. You can still walk or ride in though. There's no water and the restrooms are closed, so keep that in mind if you head into one of them. Launching your kayak or canoe at Silver Lake is simple. Just head to the EID boat ramp, right off SR 88. In the Crystal Basin launch at Ice House boat ramp, or go up to Loon Lake, over the dam, to the a dirt road that drops to the lake. The campgrounds are closed, which means the regular ramps are out of reach. Echo Lake is open. Keep in mind that the wind can kick up at any time at any of these lakes.
Hiking? Anywhere you are able to. Until the snow flies, the trails are open. Daylight hours are shorter and time on the trails is limited. Plan ahead, as hiking in the dark can be a bit of a trial. 
Over all it's just spectacular in the mountains at this time of year. Take advantage of it. When the snow starts, everything changes.
Hope Valley Outdoors is still for sale. Now's the time to enjoy running your own outdoor winter rec business. Gather a partner or two and put yourself in a stunning area, running a crosscounty ski and snowshoe business in one of the most gorgeous spots in the Tahoe area.
October shoulder season  
Shoulder season means fewer crowds, wonderful autumn weather and a bucketful of things to do. For starters, the Fall Fish Fest at the USFS Visitors Center at Taylor Creek is this weekend, Oct. 6 and 7, 10:00 am to 4:00 pm each day. Great fun for families. Celebrating the return of the Kokanee Salmon to Taylor Creek, the festival is free. There are educational programs for the children, the wonderful Rainbow Trail to wander through, and bank to bank Kokanee Salmon in Taylor Creek. Go early, parking is always an issue here. Keep in mind that the Kokanee swimming up Taylor Creek to spawn brings bears and bear cubs to the creek. They're there to gorge on the salmon, fattening up for winter. Stay well away from the bears. They are wild, fast and powerful. Mother bears with cubs are especially dangerous. Stay away from them.
The Oktoberfest at Camp Richardson is going on at the same time, 10:00 to 5:00 each day. Camp Richardson just next door to the USFS Visitors Center. Vendors of all types, music, and very limited parking. Go early if you expect to park close by.
Autumn brings spectacular colors to the aspens, willows, cottonwoods and more all through the Tahoe Basin and on the west slope as well. Take a drive, wander about and get a wonderful taste of autumn.
Hope Valley Outdoors, also known as Hope Valley Cross Country, is for sale. Joyce Coker, long time owner of this off the grid seasonal business, is looking for buyers. Gather some friends and launch into a spectacular Hope Valley business. Take a look: https://listings.realbird.com/tour/E2F1D2F7/515117/1-3/1000-Burnside-Lake-Rd-Sorensens-CA-96120
Enoy this fine autumn weekend. 
Mid-summer in the mountains 
August in the mountains, prime summer time for just about everything. Except. Always an exception. It's not prime time for schools to start, but that is what they are doing. By the end of August all the schools in El Dorado County, and around the Basin in Placer County, along with Douglas County in Nevada, will be in session. That shortens the time families have to explore, relax, and enjoy the Tahoe area in good weather, whether local or visitors. Early June brings weather that is all over the map: rain, wind, snow, hail, sun. Planning a family or buddy trip for camping or hiking can be challenging. That leaves July and, depending on the school district, a part of August to squeeze everything in. Quite an exception.
Looking for an outdoor business to buy? Joyce Cokers Hope Valley Outdoors (aka Hope Valley Cross Country) is for sale. The listing is with Lloyd Aronoff, RE/MAX Realty Today, 530.541.0200. Great opportunity to own and expand an established outdoor business in stunning Hope Valley, just outside of Meyers/South Lake Tahoe/Markleeville. Joyce has built the business into a recognized leader in backcountry skiing and snowshoe skills. 
In other news, Kathy Reed has ended the Lake Tahoe News after a nine year run. Reed is a well known and respected journalist who has a passion for Lake Tahoe and all its complexities. She lost a significant revenue stream when her status as an adjudicated publication was revoked due to a challenge by the parent company of the Tahoe Daily Tribune. Read the full story at Tahoe Mountain News, written by Heather Gould, another well known and respected journalist in Tahoe.
Wildfires in Yosemite and Redding are sending significant amounts of smoke into El Dorado and Placer Counties. The Tahoe Basin, Crystal Basin, the foothills to the mountains, have had some very unpleasant days. Until the fires are out there's the possibility of smoke wafting in on your last days of summer in the mountains. 
Tahoe Area Mountain Bike Association, TAMBA, still has lots of projects and events for the mountain bike crowd. Summer into autumn is always a very busy time for mountain bikes in Tahoe.
Meyers Community Foundation website is another good place to check out. The Meyers community is very proud of their spot in Tahoe. They sponsor events year round, all with an outdoor theme, for everyone to enjoy. If you're looking for something to do in Tahoe that is community sponsored and supported, you'll find it here.
Close to the end
Downhill ski resorts in and around Tahoe are announcing their closing dates. While there may be what looks like plenty of snow to ski on, the economics of running a ski resort are what generally dictate when they close. With sunny, very warm days in the valley, temps in the high 70's and higher, flowers blooming, lakes full, gardens being planted, thoughts of skiing start to fade out. The number of skiers showing up drops off pretty quickly. 
Kevin Cooper, Kirkwoods spokesman, said they will stop the lifts at the close of the day on Sunday, April 8. Northstar California shuts down a week later on Sunday, April 15, as will Diamond Peak and Tahoe Donner. Granlibakken will close on April 16. Heavenly is next, closing on Sunday, April 22.
Jessica VanPernis Weaver, JVP Communications said that Homewood will close on April 15. She said the Mt. Rose will shut down the lifts on April 29, which marks another full 6 month season for them. Sugar Bowl will remain open depending on conditions. Squaw Valley  has extended their season thru Memorial Day, with Alpine Meadows running through April and possibly into May, according to Liesl Hepburn, Public Relations Director at the resorts.
Thea Hardy, Communications Manager at Sierra-at-Tahoe said they while they generally close mid to late April, their closing date depends on the longevity of the current snowpack as well as temperatures and changing conditions. With 17+ feet of snow in March it's hard to think of shutting down. Dodge Ridge stops on April 8. Bear Valley runs till April 22. If you are a fan of Mammoth, you have till Memorial Day. June Mountain is calling it a season on April 8.
The cross country resorts that are connected with downhill resorts will close when they do, or before if snow coverage on their trails gets a bit iffy. Hope Valley Outdoors Joyce Coker said that the Yurt will come down on April 16. Cross country fans can then head out to wherever there is good coverage and keep kicking and gliding, right up till the dirt comes through the snow.
Call ahead if you have any questions about what's running, snow conditions, and hours, or visit the resorts website. Get out there while you can, times running out on this season.
Check out Boomers on Bicycles for more information about outdoor recreation.
Storm door opens–finally              
After a slow, some would say miserly, start, snow has begun to fall again over the Sierra in the Tahoe region. From Pollock Pines to Mt. Rose, and over on the SR 88 corridor, snow is predicted for the next several days. More is expected next week. Keep up with the snow predictions at Tahoe Snow.  For daily ski resort information, Curtis Fong, "That guy from Tahoe" , runs a comprehensive site that covers all of them. Bike and Ski Tahoe is the site. Check out Joyce Coker's Hope Valley Outdoors for backcountry ski lessons and rental.
Today, March 14, 2018, Jessica VanPernis of JVP Communications in Tahoe said that "Homewood Mountain Resort is offering incredible mid-winter snow conditions, affordable lift access (starting at $49 per person), and spring events including the upcoming Beer & Gear Festival (March 17). More snow is in the forecast this week, and now's the time to make plans to get on the hill for some spring skiing and riding!"
From Liesl Hepburn, Public Relations Director Squaw Valley Alpine Meadows: "Twelve inches of new snow fell overnight at Squaw Valley Alpine Meadows and it's still snowing! The National Weather Service is calling for up to 50 more inches by the end of the week, making for a powder-filled weekend at Squaw Valley Alpine Meadows."
Thea Hard, Sierra-at-Tahoe PR, posted this about season passes: " Sierra-at-Tahoe announces the Certified Unserious Season Pass for only $349. Guests get access to unlimited days during the 2018/19 Winter Season as well as the remainder of the current season. Each 2018/19 Certified Unserious Unlimited Season Pass is loaded with benefits including four $50 Buddy Tickets, Free Fridays (on select Fridays) and three days of free skiing at every other Powder Alliance resort; available for use in the 2018/19 winter season."
Spring is just around the corner. Get out there and enjoy this new round of wonderful snow. Alpine, Nordic, snowshoe, just hopping around in the snow, the time is now.
Tahoe Fund seeks proposals  
The Tahoe Fund, according to a statement on their website, was "…founded in 2010,  as a registered non-profit corporation in the States of  Nevada and California. The purpose of the Tahoe Fund is to become a major source of private funding for environmental projects around the Lake Tahoe Basin with an emphasis on recreation, conservation and education."
To that end, they've raised quite a bit of money and launched numerous projects around the lake. The are currently asking for proposals that will help solve the many environmental challenges facing Lake Tahoe.
Here's what they are looking for:  "The Tahoe Fund seeks projects for its 2018 Signature and Premier Project Portfolios that will improve Lake Tahoe's environment, reduce the risk of wildfire, and address climate change by enhancing water quality, restoring watersheds, creating healthier forests, improving transportation and fostering outdoor recreation.  The Tahoe Fund also seeks to build a greater sense of stewardship in the Tahoe Basin." Fundraising goals run from $5,000 to $1,000,000.
Interested? If your organization is looking to participate,  submit your project ideas by January 31, 2018 at http://www.tahoefund.org/our-projects/submit-a-project/.
Mt. Rose opens for the 2017-18 season
Jessica VanPernis Weaver, of JVP Communications, sent out this press release today, November 5:  
Mt. Rose Ski Tahoe announced it will begin daily operations for the 2017-18 winter season tomorrow. The first resort to open in the Lake Tahoe area for the season, Mt. Rose will offer access to one beginner ski trail accessed by the Wizard chairlift from 9 a.m. to 4 p.m. seven days per week, and will continue to open additional terrain as weather and conditions permit. Snowmaking operations are now underway as temperatures allow. Beginning tomorrow, lift tickets will be available for $59 for guests ages 16+, and $29 for children ages 15 and under.

"Thanks to this past weekend's winter weather and the return of cold overnight temperatures, our snowmaking team has been able to make snow at every opportunity," said Mike Pierce, director of marketing for Mt. Rose Ski Tahoe. "At 8,260', Mt. Rose benefits from the Lake Tahoe area's highest base area elevation, meaning that we're able to make snow from top to bottom. As conditions permit, we'll continue to make snow, and hope to open even more terrain for our guests to enjoy very soon."

The Lodgepole Café and Timbers Bar will also be open daily in the Main Lodge. Equipment rentals and ski lessons will not be offered until more terrain is opened, however guests will be able to pick-up season leases and purchase season passes.

Following last season's six-month winter season, Mt. Rose Ski Tahoe will aim for that goal again this year, and will open additional terrain as weather and conditions permit. For more information about resort services, conditions, or to purchase a lift ticket or season pass, visit www.skirose.com.
Sierra-at-Tahoe Job Fair
Thea Hardy, Public Relations at Sierra-at-Tahoe, has announced their annual job fair for the coming ski season. From the time the last skier left the resort at the end of last season, the resort has been a busy place, and it's about to ramp up the busy factor.
If you're looking for a ski season job, either at the entry level or a spot that requires experience, it's time to take a look at what's needed at Sierra. The job fair will take place on Saturday, October 21, from 9:00 a.m. to 2:00 p.m., at the Solstice Plaza at Sierra (https://www.sierraattahoe.com/event/sierra-job-fair-2017/).
 The job board is pretty extensive. Ski resorts are like small cities. Running one takes a wide variety of skills over a very long list of job titles and skills.
John Rice, longtime General Manager of the resort, has said that they are looking for employees who are really good with working with the public. Sierra turns into an international gathering from the opening bell till the end of the day, every day of the season. People from around the globe, from the very young to the much more mature, enjoy the resort every day it's open.
Accountants, drivers, mechanics, janitors, mountain operations, ski school instructors, retail, food and beverage, barista's, reservation desk, ticket desk, lift operators, day care, guest services, IT support, parking, warehouse, and more, all of whom make the resort function smoothly, no matter what.
What do you need? Good people skills, and a love of the mountains. Awesome, as Hardy describes it. You do need to show up and apply. What a way to spend the winter.
Warren Miller's 68 Ski and Snowboard Film
From Jessica VanPernis Weaver, of JVP Communications in North Lake Tahoe, comes an exciting press release. Warren Miller's 68th ski and snowboard film will show in multiple locations.
"This fall, the annual tradition is back to salute the start of winter. The world's biggest name in snowsports cinema—Warren Miller Entertainment—celebrates its 68th ski and snowboard film with downhill thrills, global adventure and a nod to those that taught us to slide on snow.

Snow riders are a family—one big tribe comprising of many smaller ones. Familial rites pass down through generations. Skier roots grow deep in high mountain soil. Line of Descent celebrates just that, the lineage of legendary athletes through a multi-generational cast of skiing's icons and fresh faces, including Tommy Moe, Jonny Moseley, JT Holmes, Lexi duPont, Seth Wescott, Kalen Thorien, Marcus Caston, Jeremy Jensen, Griffin Post, and more."
VanPernis Weaver said it's one of the best he's done. Squaw Valley/Alpine Meadows are featured, along with other world class resorst, in the film.  "As you know, Warren Miller movies are one of the signals to the start of the ski season and often get people fired up for winter. There are two shows scheduled at the Crest Theatre in Sacramento this November. In addition, this year, not only is Squaw Valley | Alpine Meadows featured in the movie, a few local athletes including Jonny Moseley, JT Holmes, Errol Kerr and Amie Engerbretson are as well."
Check out the highlighted website for more info. It's sure to be a worthwhile experience. It's time to gear up for the coming snow season.
Alpine Aspen Festival
Hope Valley in autumn. Aspens launching into their annual color dance, wonderful fall weather, and the Alpine Aspen Festival. It all comes together over the weekend of October 7 & 8. Most of the event will take place in the big parking area where Blue Lakes Road meets SR 88. Some of the events wander away from here, but everything is close by and easy to access.
There's lots to choose from. Hiking, nature walks, disc golf, watercolor workshops, music, fly fishing demonstrations and instruction, Dutch Oven cooking, history, aspen tree planting, bird watching and much more. Some of the offerings are off site but close by. Most everything is free. Anything that you pay for will be more than worth it.
Families will enjoy the friendly people and events. Children will love just about everything about it.  Your well behaved doggies are welcome as well. The aspens start to show some color about now, and things just sort of slow down as autumn deepens. Hope Valley is just a very special place. This event starts off the fall season in grand fashion. 
Remember to wear layers for the cool mornings and warmer afternoons, use plenty of sunscreen and bring plenty of goodies and food to munch on, in addition to the goodies that will be there. Contact them for more information.
Creek Clean Up
If Hope Valley is on your list of favorite places to get outside, consider pitching in to clean it up. Great chance to do so Saturday, Sep. 9. The Alpine Watershed Group is holding its Creek Clean Up Day, and Hope Valley is on the list. According to the blurb on their website, "The Alpine Watershed Group hosts this annual event in partnership with a variety of local agencies and community groups, including Alpine County, Friends of Hope Valley, and the Carson Water Subconservancy District."
What's on tap? Take your pick:
 – Hope Valley Willow Planting and Bank Stabilization
   – Grover State Park – Native Garden and Weed Pull
   – Bear Valley Trout Spawning Protection 
   – Markleeville Creek Heritage Park Enhancement
   – Storm Drain Stenciling in Markleeville 
Great time to give back to a spectacular place, meet old friends and new, and have a fun filled and rewarding day in the mountains.
Labor Day Has Come and Gone
Now what? We're moving into one of two shoulder seasons from Pollock Pines to Tahoe. From now till the snow flies, things will be less crowded all over. School bells started ringing in early August, weird but true. They are all open now. Football rules the weekends, homework, clubs, events take over for everyone in school.
That leaves the trails, lakes, paths, and mountains to everyone else. Weekdays remain the least busy time to head to the mountains. What to do? There's too much to stuff into this space. Instead, explore the links to so many different things to do in the mountains, Nature's Wonderland.
Where to go, what to do?
Just about anything. Hiking, mountain biking, kayaks and canoes, fishing, camping, all of it. Weather has been hot but is cooling off now, making things much more comfortable.
Rafting? Tahoe City to River Ranch on the Truckee is slow and sweet. The American River out of Coloma is running really nicely for anyone wanting a whitewater ride (Adventure Connection).
Kayak and canoe enthusiasts can head to Silver Lake, Caples Lake, Loon Lake, Union Valley, and Lake Tahoe for a little human powered water fun.
Hiking? Carson Pass, Hope Valley, Crystal Basin, Tahoe Basin. Take your pick. It's all good. All you need to do is get out there.
Camping? Take a look at Bear Valley, in addition to all the areas around Carson Pass and in Tahoe.
Mountain Bikes in the Mountains
Mountain bikes in the mountains. What a combo! With summer in full roar, long days with more trail opening up as the snow melts, mountain bikes are riding just about everywhere possible. Here are some places to learn, to rent a bike, or just find out about local trails in and around Pollock Pines to Tahoe.
Resorts:
Kirkwood runs a mountain bike park in the summer. They run only on weekends. From 9:30 am – 4:30 pm, Saturday and Sunday (July/August including Labor Day weekend). Rentals, lessons, lifts, thrills, and high altitude riding.
Northstar Califorina  runs their bike park 7 days a week. Hours are  from 10;00 am- 5:00 pm, Saturday to Thursday, and 10:00am to 7:00 pm on Fridays. Rentals, lessons, lifts, competition, group instruction.
Squaw Valley is still in downhill ski mode. Kinda hard to mountain bike amongst the skiers.
Bike shops  and rental outfits that can steer you to great rides:
Placerville Bike Shop, 1307 Broadway, Placerville, CA 95765, 530.622.3015
Wattabike, 2933 Highway 50, Meyers, CA 96150, 530.544.7700
South Shore Bikes, 871 Emerald Bay Rd, South Lake Tahoe, CA 96150, 530.544.7433
Anderson's Bike Rental, 645 Emerald Bay Rd, South Lake Tahoe, CA 96150, 530.541.0500
Camp Richardson Outdoor Sports, 1900 Jameson Beach Rd, South Lake Tahoe, CA 96150, 530.542.6584  
Sierra Ski and Cycle Works,  3430 Lake Tahoe Blvd. South Lake Tahoe, CA 96150, 530.541.7505
Tahoe Bike Company, 3131 Harrison Ave, South Lake Tahoe, CA 96150, 530.600.0267
Over the Edge Tahoe, 3665 Tamarack Ave, South Lake Tahoe, CA 96150, 530.600.3633
Olympic Bike Shop, 620 N Lake Blvd, Tahoe City, CA 96145, 530.581.2500
Flume Trail Bikes, 1115 Tunnel Creek Rd b, Incline Village, NV 89451,  775.298.2501
Factory Bikes, 3039 CA-89, Olympic Valley, CA 96146,  530.581.3399
Death Ride 2017/Tour of the California Alps
Death Ride 2017 will launch out of Turtle Rock Park, SR 89, just south of Woodfords and north of Markleeville, on July 8, at 0500 or daylight, whichever shows up first. The ride is also known as the Tour of the California Alps, coursing through the Sierra.
The Ride
For 129 miles, riders will climb an aggregate total of 15,000 feet. Three stunning mountain passes will be summited, two of them twice. First up is Monitor Pass, 8,314 feet, ridden both ways, twice. Next up is Ebbetts Pass, 8,730 feet and the highest, ridden both ways, twice. After climbing out of Woodfords Canyon on SR 88, riders tackle Carson Pass, 8,580 feet, making this the fifth pass of the day. All of this, 129 miles of it, have to be completed by 2000, or 8 pm.
Swag and Support
Completing all five passes earns 5 stickers for your helmet, a Five-Pass Pin, and you're eligible to buy the Five-Pass jersey. If you registered for this lung busting challenge,  here's what you receive, besides bragging rights:
• Custom Death Ride® Patch
• Custom Death Ride® Water Bottle
• Custom Death Ride® Five-Pass Finishers Pin (if course is completed)
• Tuf-Map
• Giveaways from Sponsors at Bike Expo and on course
• Official Participant Numbers
• Highway Closures
• SAG, Tech & On Course Communication Support
• Medical Support
• Law Enforcement Support
• Food & Drink at Rest Stops
• Lunch (10:00am – 3:00pm)
• Live Music
• Post Ride Dinner/Rider Dinner complimentary per event organizers and is NOT refundable
You might still be able to register to ride. You'll have to check with the Death Ride folks to find out. If you haven't trained for this, or you have never ridden or hiked at altitude, you're better off waiting till next year. It's a stunning ride, and now matter how many of the climbs you ultimately conquer, you'll remember it for the rest of your life.
Two Festivals at Taylor Creek June 24-25
For a fun weekend for you and your children, consider heading up to the Taylor Creek Visitor Center at Lake Tahoe. Over the weekend of June 24 and 25, two festivals will take place.
The "Wild Tahoe Weekend" is sponsored by the US Forest Service Lake Tahoe folks and the Tahoe Institute for Natural Science. Both days are free. You'll need to take or buy snacks and lunch.
Saturday, from 10:00 am to 4:00 pm, is dedicated to the 6th annual Native Species Festival, while Sunday, 10:00 am to 3:30 pm, is for the 7th annual Lake Tahoe Bird Festival. Lulu the Lahontan Cutthroat Trout and Smokey the Bear will be there, along with displays and nature walks.
It will be warm over the weekend. Sunscreen, hats, plenty of water should be on your list to take with you. These festivals are especially fun for children of all ages.
Taylor Creek is spectacular right now, and the Visitor's center, 3 miles north of South Lake Tahoe on State Route 89, is a wonderful place to spend the day with your children, or with just you, enjoying an amazing early summer weekend.
The Other Flume Trail
What other Flume Trail?  The one known as the Incline Flume Trail. Like the other one, the trail is on what used to be a flume that sent logs down to the Lake in the Comstock Era. It's pretty family friendly, more flatish that its cousin simply known as The Flume Trail. The trail is an extensive project that involves the Tahoe Fund, Tahoe Area Mountain Bike Association, the USFS, Friends of Incline Trails, the Forest Service, Nevada State Parks, Nevada Land Trust, Washoe County and Incline General Improvement District and others. 
Read about the trail at the Tahoe Fund website. Get your gear on, pump up the tires and head over there for what is a fun ride with outrageous views of Lake Tahoe.
June Snow
Snow in June? Absolutely. Check the weather report before heading to the mountains, as snow is predicted at 5,500 feet and higher in the Tahoe area. Stay safe.
Bear Valley Summer
Marc Gendron over at the Bear Valley Resort said that their summer schedule is full of family fun. Included are kid camps, climbing, kayaking, canoeing, hiking, art, music and more. Newly renovated lodge, great food, all designed around families and having a fantastic time in the mountains.  Check out the post on Boomers on Bicycles for all the info. Make the drive and enjoy a very special area.
Alpenglow Summer Festival
Alpenglow Sports, located in Tahoe City, has released its Summer Festival Schedule. From June 17 through June 25 the shop is holding the annual Summer Mountain Festival. Activities for anyone who loves to play in the mountains. Space is limited, sign up now to insure your spot! Check out the calendar here.
Friends of Hope Valley
If you enjoy all the recreation possibilities in Hope Valley, consider helping out with their annual work day.  Friends of Hope Valley's annual workday is June 10th… at 9:00am. Participants will meet at Pickett's Junction (Hwy 88/Hwy 89) in Hope Valley. Join in a work party of their choice. Projects include watershed habitat improvement, general clean up and fence repair. FOHV members are welcome to stay and attend the general membership meeting at noon. Please mark your calendars and join us. Bring work gloves, shovels, and fencing pliers.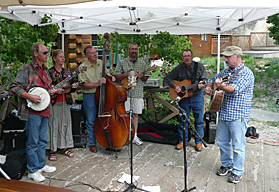 June 11th…The Back Forty Bluegrass band will returns to the Friends of Hope Valley benefit concert. This event will take place at Sorensen's Resort located on Highway 88 in Hope Valley. Accompanying the Back Forty will be "local folkies" The Ten Dollar Pony, Larry Nair and Beth Oliverto. Based in Gardnerville, they play a lively blend of original and cover tunes.
Spend an afternoon in a beautiful setting at Sorensen's Resort. Good music and good food will be guaranteed. Sorensen's Resort is generous enough to host this event and match the funds raised. $10 donation requested. No host BBQ…. 1pm to 4pm

Check out www.sorensensresort.com for more events and information         
Squaw Valley Alpine Meadows  
Liesl Kenney, Public Relations Director at the resorts says that the calendar for events is full. The summer events range from Yoga to art shows, dogs in the Village, art, and quite a few other exciting opportunities. Visit the Squaw/Alpine website for all the information.
Out and About in the Mountains
It's that time of year when season pass prices hit the ski market around Tahoe. These prices are most often the most economical you'll see. It's time to prove you're an optimist about next season's snowfall. You'll be in the group who absolutely knows it's going to be worth that season pass.
If you ski four times you'll pay for the pass in most cases. From your fifth trip to the lifts to the end of the season, you'll be skiing and riding for free.
Here's a list of the resorts in the Tahoe area, plus Bear Valley, their phone numbers, website links, and details on the various versions of a season pass for the 2017-2018 ski season. All of the rates listed below will go up, with some of the passes offered on a limited basis. Check the websites for full information regarding prices.
Certified Unserious Unlimited Season Pass: 
Adults $329 for, Young Adults (13-22) $279 or College Students (proof of 6 fall 2017 credits), Child (5-12) or Super Seniors (70+) $139
Unrestricted access to the mountain seven days a week, all season long, with no restrictions the entire 2017/18 season. No blackout dates on powder days, holidays or weekends when other passholders may get shutout. Ski or ride at Sierra for free the rest of the 2016/17 season.
Also: Skiing/riding for free at other resorts through the Powder Alliance for the 2017/18 season. Made up of the greatest powder stashes in the West, the Powder Alliance includes three days of FREE skiing/riding at 13 other mountains including Crested Butte, Stevens Pass, Timberline, Schweitzer, China Peak, Mountain High, Arizona Snowbowl, Mt. Hood Skibowl, Angel Fire Resort, Bridger Bowl, Whitewater and Silverstar in BC, Canada, plus Kiroro Resort in Hokkaido, Japan.
Sierra Resort Value Pass: $279 : The Sierra-at-Tahoe Value Pass is perfect for locals who ski midweek and like to  have the mountain to themselves. The Sierra Value Pass is valid Sunday through Friday excluding blackout dates: 2017/18 Blackout Dates: December 26-31, 2017, January 13-14, 2018, February 17-18, 2018.
KIRKWOOD MOUNTAIN RESORT www.kirkwood.com / (
209) 258-6000
Kirkwood's season passes range from the:
Epic: Adults $859 and Child $449, (which gives you unlimited skiing at Kirkwood and at these other resorts: Vail, Beaver Creek, Whistler Blackcomb, Breckenridge, Keystone, Park City, Heavenly, Northstar, Stowe, Wilmot, Afton Alps, Mt. Brighton, Perisher and Arapahoe Basin, plus access to 30 European resorts across Austria, France, Italy and Switzerland), to the:
Kirkwood Pass: (unlimited skiing at Kirkwood)   Adults $549, $439 teen and senior (65+) and $279 child and through 7 more categories.
The last is the :College Pass: $489.
Most come with access to other resorts, buddy tickets and other goodies. You'll have to go to their site to take a look at their extensive offerings.
HEAVENLY MOUNTAIN RESORT www.skiheavenly.com / (775) 586-7000
Heavenly is in the same group at Kirkwood. The season passes here also span 8 categories.
Epic Pass: Adults $859and $449 child, with the same access to the list of resorts at Kirkwood, to the unlimited
Tahoe Local Pass: Adults $549,  Teen $439,  Child $279, to the
College Pass at $489 or $369. Go to their website to see all their extensive offerings. Each pass has other goodies attached to it.
HOMEWOOD MOUNTAIN RESORT www.skihomewood.com / (530) 525-2900/ (530) 584-6800
Homewood's unlimited: Adults $409, Teen $329, Junior $159, Senior (62-69) $269, and Super Senior (70+) $219
College Pass (unlimited): $259
Family Pass (unlimited): (2 adults, 2 teens or child) $1059. Children to age 4 ski free.
Perks include 5 discounted friends and family tickets (30% off) plus 10% off food, beverages, rentals, demos and retail. There's also access to Red Lodge Mountain (unlimited) and Whitefish (5 days) (Montana), Diamond Peak, Brundage Mountain (5 days) (Idaho) ½ price at Alta (Utah)
GRANLIBAKKEN RESORT www.granlibakken.com
/(530) 581-7533 / (530) 583-4242  **
These are their normal prices throughout the season. They do not offer season passes. Granlibakken rates are Adults $30, $35 Holiday, $16 half-day, Child (12 and under) $20 full day, $25 holiday, $10 half-day.
ALPINE MEADOWS www.skialpine.com / (530) 581-8374  SQUAW VALLEY www.squaw.com
/ (530) 452-4335  
Season passes are the same for both resorts.
Gold (unlimited): Adults (19-64) $869, Young  Adults (13-18) $719, Child (5-12) $389, Senior (65-75) $719 and Super Senior (76+) $389.
Silver(10 blackout dates–December 26 – 31, 2017; January 13-14, 2018; February 17 – 18, 2018):  Adults (19-64) $659,Young Adults (13-18) $489, Child (5-12) $299, Senior (65-75) $489 and Super Senior (76+) $299.
Bronze (Valid Monday-Friday; not valid on any Saturdays or Sundays and December 26 – 31, 2017; January 13-14, 2018; February 17 – 18, 2018):Adults (19-64) $499, Young Adults (13-18) $409, Senior (65-75) $409.
College: unlimited $469
6 discounted friends and family lift tickets for all pass types, 10% off at Squaw Valley Alpine Meadows owned food and beverage locations. There's more. Check out their website for full details.
Season passes are the same as Kirkwood's, with the addition of the Tahoe Value College, $369:  Ski 7 days a week at Heavenly and 6 days a week at Northstar and Kirkwood. Restrictions: Heavenly, Northstar, Kirkwood blackouts 11/24/17-11/25/17, 12/26-12/31, 1/13/2018, 1/13/18-2/18/18, plus all Saturdays at Northstar and Kirkwood.
Other perks include buddy tickets, ski with a friend, discounts at other resorts.
Diamond Peak passes: Adults (24-64, unlimited) $379; mid-week $279, Youth (13-23)/ College: $219; mid-week $179, Child (7-12)/Senior (65-69) $159; mid-week $139 Super Senior (70-79) $139; mid-week $119; 6 and under, 80+, Free all the time.
Discounted bring-a-friend tickets, 4 free bonus non-holiday lift tickets at select partner resorts including: Homewood Mountain Resort, Red Lodge Mountain, Bogus Basin and more partners TBD. Check the website for full details.
Mt. ROSE SKI TAHOE www.skirose.com
/ 800-SKIROSE/ (775) 849-0704
Season passes at the Rose:  Adults (24+, unlimited) $449; Young Adults (16-23) $349, Child $199.
Mid-week at the Rose: MON – FRI Not Valid Dec 25-29, Jan 15, Feb 19. Call for pricing.
Season passes:  Adults (18-59, unlimited) $309; Junior (13-17) $204; Child (7-12) $159, Senior (60-69) $164, Super Senior (70+) Free.
BOREAL MOUNTAIN RESORT www.rideboreal.com
/ 530-426-3666  
Visit their website for details. 2017-2018 season pass prices are not posted yet.
Adults (24-59): $229; Young  Adults (18-23) $169; Teen (13-17) $169; Child (5-12) $129; Mini (4 and under) $29;
Senior (60+) $49. All prices are unlimited access to Soda Springs.
ROYAL GORGE XC  www.royalgorge.com
/ 530-426-3871 Cross country heaven!  
Adults (23-64) $309; Young  Adults (13-22 ) $289; Senior (65-74) $289; Child (0-12) Free Daily Pass (one time $25 processing fee applied to receive season pass media–the actual pass); Super Senior (75+) Free Daily Pass (one time $25 processing fee applied to receive season pass media–the actual pass). For complete details visit the website.
SUGAR BOWL SKI RESORT www.sugarbowl.com
/ (530) 426-1111
Season passes, with perks: Child (5 and under) $45 (also gives access to xc skiing at Royal Gorge).
Adults (23-64,unrestricted) $689, Young Adults (13-22) $479, Senior (65-74) $479, Child (6-12) and Super Senior (75+) $299
Slightly Restricted (blackout dates: 12/26/17-1/1/18, 1/13-14/18 (Sat/Sun of MLK, 2/17-18/18 (Sat/Sun of Presidents Day Weekend.):
Adults $479, Young Adults $359, Senior (65-74) $359
Mid-Week (Valid Monday-Friday, excluding holidays, blackout dates 12/26-29/2017, 1/1/2018)
Adults (23-64) $299, Young Adults (13-22, unrestricted) $269, Senior (65-74) $269
Check their website for additional cost to season pass for xc skiing at Royal Gorge for all other ages, plus pass perks)
As they say on their website: "Low lift ticket prices every day with no variable pricing, and no surprises"
Adults (18-69) $299, Teen (13-17) $249, Child (6-12)$149, Young Child (0-6), Senior (70+) $199
Bear Valley

www.bearvalley.com / (209)753-2301 Peaks Pass and Polar Pass both offer unrestricted access to lifts for the spring of 2017 and the entire 2017/18 season. See their website for complete information about perks.
Peaks: Adults (23-64) $599, Youth (14-22) $499, Child (6-13) $329, Kinder (5 and under) $89, Senior (65-69) $329, Super Senior (70+) $89
Polar: Adults (23-64) $449, Youth (14-22) $339, Child (6-13) $259, Kinder (5 and under) $79, Senior (65-69) $259, Super Senior (70+) $79
College Pass: (College students taking a minimum of 12 credit hours at the time of pass pick-up. Please bring a transcript in order to pick up.): $219
Military Pass: (Active duty US military members. Please bring an active military ID in order to pick up.): $219